Post 1 made on Wednesday July 12, 2006 at 05:54
It's my lucky day!

Joined:
Posts:

February 2005


2,678
Post 2 made on Wednesday July 12, 2006 at 17:54
Long Time Member

Joined:
Posts:

February 2006


407
Send it to the French!!!!!!!!!!!!!!!
Chad Kemp
A/V Connections
OP | Post 3 made on Thursday July 13, 2006 at 04:33
It's my lucky day!

Joined:
Posts:

February 2005


2,678
Post 4 made on Sunday July 16, 2006 at 14:24
Ultimate Member

Joined:
Posts:

May 2001


28,827
Now we know what really happened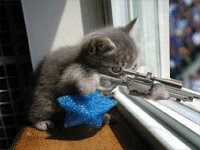 ...
Post 5 made on Monday July 17, 2006 at 01:49
RC Consultant

Joined:
Posts:

December 1999


9,807
ROFLMAO!!!
When ignorance is bliss, 'tis folly to be wise.
Please read the following:
Unsolicited commercial advertisements are absolutely not permitted on this forum. Other private buy & sell messages should be posted to our
Marketplace
. For information on how to advertise your service or product
click here
. Remote Central reserves the right to remove or modify any post that is deemed inappropriate.