[URL=
[Link: s95.photobucket.com]
][IMG]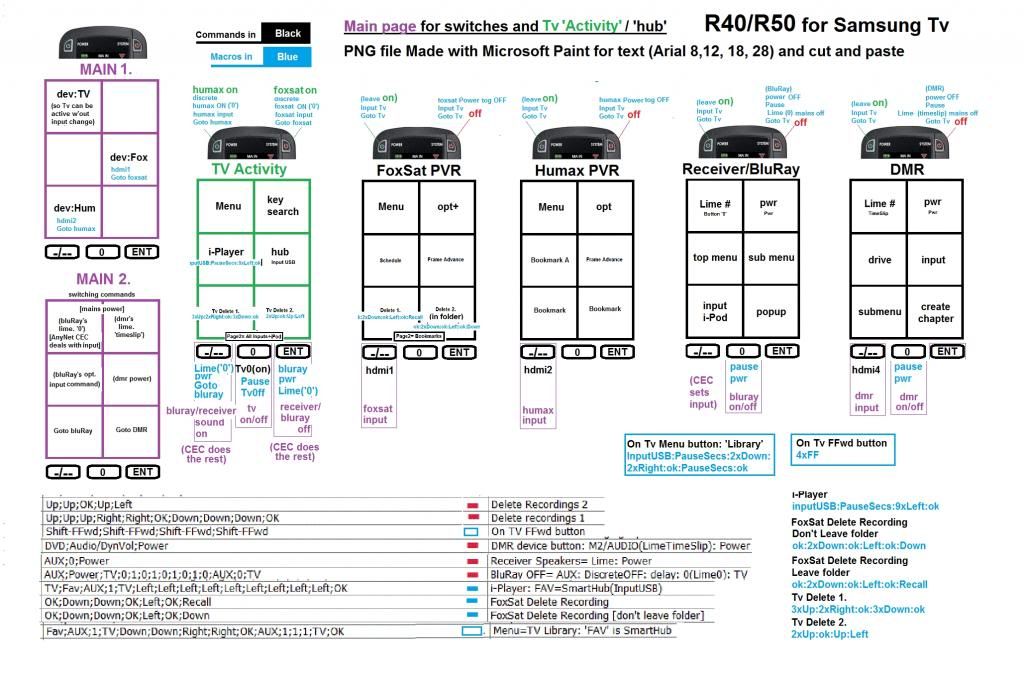 Hi. This is a bit late but hope it might be of interest to someone. The 0's and odd device switching in the list of macros at the bottom are from a previous config for JP1, instead of the 0.5sec pauses with R40 which do not seem to count as steps.
Our setup includes two devices, Panasonic BTT370 Home Theatre and DMR DVD recorder/PVR which are not in use very often so have Lime mains IR switches instead of leaving them always in standby. This does involve considerable delay and some other issues when they are occasionally powered up, but that is actually dealt with by including long pauses etc. while they are warming up.
In a similar way, to avoid a blank screen while the Humax PVR's are coming out of standby, the inputs are shown on the hard buttons at the bottom, which can be operated as soon as the devices are seen to be ready. This better illustrates the principles but by timing the delays on a watch these periods have really been handled automatically by including long pauses in their start macros.
These more confusing macro details are not shown but there are options to leave the Humax PVRs ON when going back to Tv. That way they can be e-entered from the Main page while avoiding the delays which are really included in the 'first start up macros' on the Tv device's hard buttons.
On the whole, to get round having to light up the screens of soft buttons, the gadgets can be operated without recourse to the OLED
Last edited by tranx on June 27, 2013 12:47.