got a free CCTV system, its old and the manufacture (SVAT) is out of business. The system would have come with an IR remote - that I don't have. I have some universal remotes kicking around and hoping I could program one of them if I had the IR code??
I guess its technically a DVR and have searched but can't find a universal DVR codes for SVAT. I tried doing a "remote auto search" on the universals but there is not a power on/off for the unit (to turn it off the manual says to pull the power cord).
Any help or knowledge of a SVAT universal remote code is appreciated.
[url=
[Link: postimg.cc]
][img]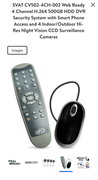 [/img][/url]
[url=
[Link: postimg.cc]
][img]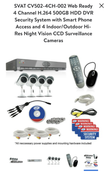 [/img][/url]