"Very impressing, indeed.
I wonder, why he never showed up at Remote Central."
"that LOWPRO guy is a member here I dont know why he posted this on a diffrent site though. But it is really cool."
Lowpro guy here. :-) I actually posted that here at remote central first. I am an active member of several other forums, some of which touch on home automation and remote control products as well. My original post is buried in this forum section. Well not too buried. It's back on like page 6 or 7. :-P Link action is below.
[Link: remotecentral.com]
I did leave out some shots here I included in my post over at hdtvoice.com. Those shots are below. They show some other DVD submenu pages I have done and shots of the DVD interface as well.
PPENG (TSU7000 editor) Shots: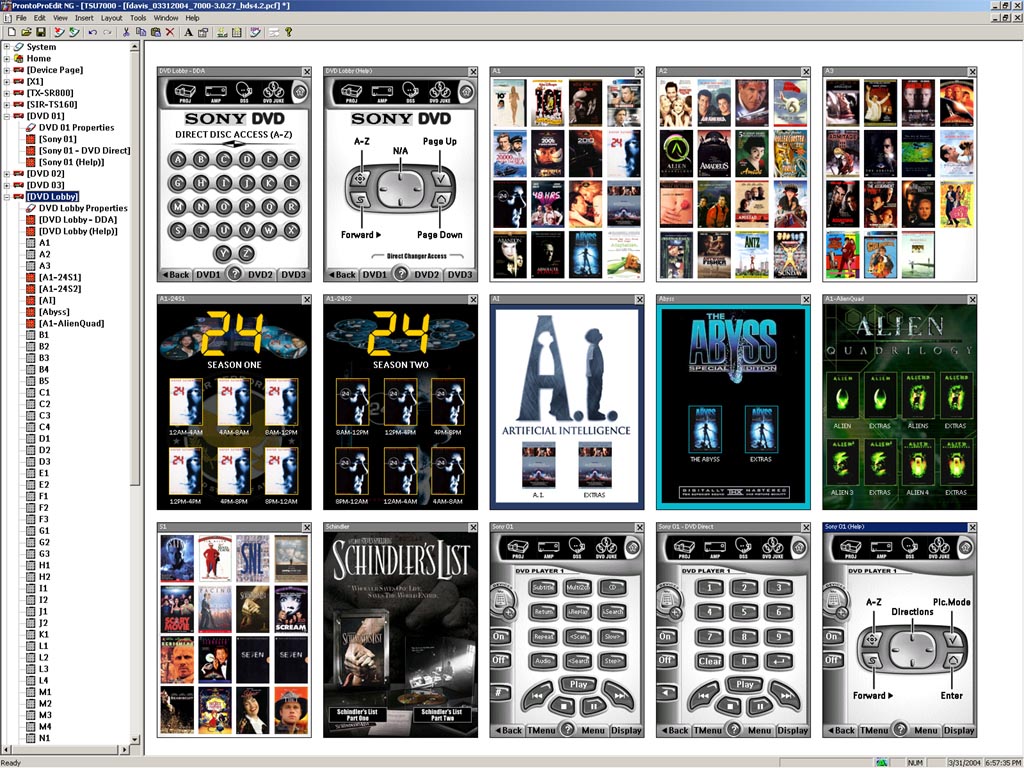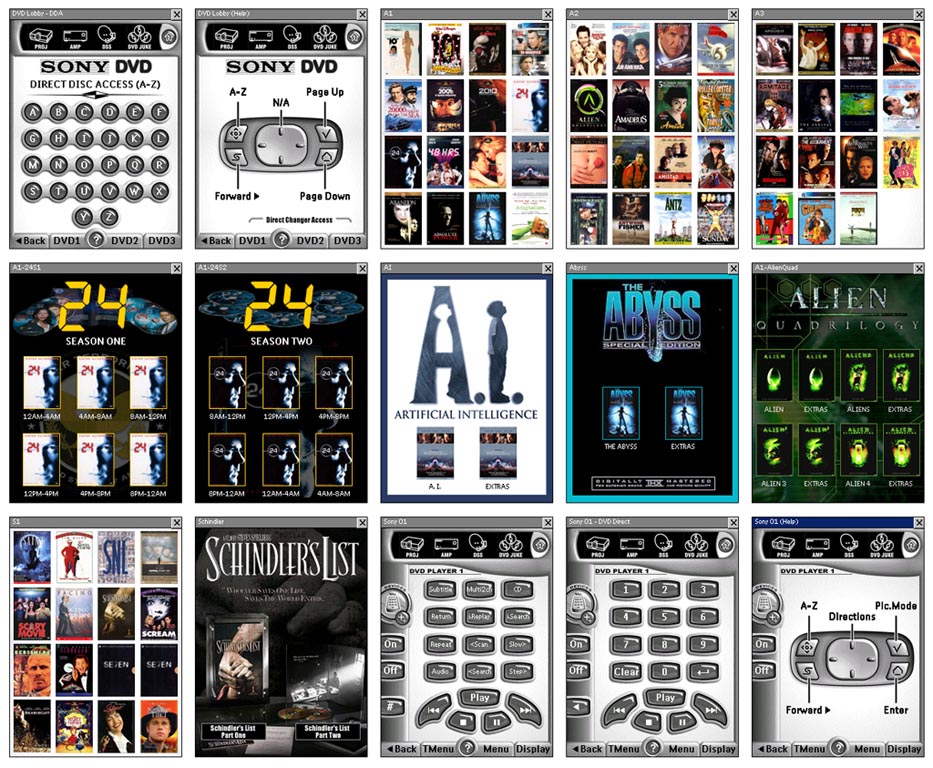 In case you were curious I have detailed below some things regarding my DVD collection setup in the remote.
I place the DVD's in my changers according to the collection ID's in my DVD Profiler. I also get the DVD covers from DVD Profiler as well. If a DVD includes more than one disc I just create a second inventory item in DVD Profiler after the first one to account for that second disc. I have even gone to the length when I first loaded my changers to make sure if the DVD was a flipper, that I encoded the flip side to my hard drive and then burned it to a DVD+R. This way the flip side is now available on a seperate disc which can be loaded in the next DVD changer slot. Some of the older movies that spread movies across two discs or forced you to flip the disc over half way though ... for these I encoded each side or disc seperately to my hard drive, and then combined them into a single encode, then ripped the movie to DVD+R. Pretty sweet! :-)
The link to my DVD Profile is below.
[Link: invelos.com]
Viewing my collection by inventory ID you will see all the extra entries I have had to add to account for each an every DVD in my collection. I loaded the changers in a-z order for what I had at the time and as you get to collection ID 885 you will see where I started adding new DVD's that I bought without reordering the collection ID's at that point.
It is an easy system which works well. The work on my pcf file took a couple long weekends, but was well worth it.
One last thing I'd like to share here is in regards to the adding of new DVD cover images to my pcf file. To keep this process accurate as far as image placement on each page I use a temporary background image I created which is placed behind each DVD cover page for that particular letter. This temporary background image allows me to quickly jog a letter's worth of DVD covers down one to make room for a new DVD cover. This keeps the placement exact as I have to insert new covers.

The bright colors make it easy to slide the DVD covers over a slot while at the same time keeping the alignment perfect. This prevents the DVD covers from shifting slightly as you browse from page to page in the remote due to misalignment. After I have inserted any new DVD covers for a particular letter I remove the temporary backgrounds of course.
As you can tell, I am a big fan of these remotes and am always excited to talk about how I've been able to automate my DVD library at home, not to mention the rest of my home theatre. It is all thanks to the TSU3000/7000. Now if Phillips will only upgrade the firmware to support the full 32 megs in the 7000. Till then I remain somewhat content. I want my $1000 worth out of this remote!
-Lowpro
Last edited by Lowpro on November 21, 2011 19:59.