On December 15, 2015 at 07:30, musictoo said...

The T2i does not allow overlapping graphics.
Exactly... the KX2 and T2i have limitations of the absolute border of each "button" even if it is transparent with text only. So, if you have a properly designed KX2 with no error messages, it can be converted directly to a T2i and vice versa.
You may notice neither of those screens support anti-aliased fonts, which would explain the limited color pallet and the inability to stack PNGs. I have solved a couple of the issues when designing pages where I can use a separate background PNG behind active buttons and not get an error.
Here is a perfect example.
Roku page normal view on T2i / KX2 on the left and the one on the right has everything highlighted so you can see all of the overlaps. There would normally be a a dozen error messages as some of the buttons are three deep in the z-order. No active buttons can overlap at all, and even text only buttons set to inactive cannot overlap, for some reason.
It took a while to figure out the "rules", and it has to be worked into any custom UI.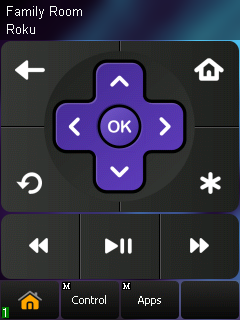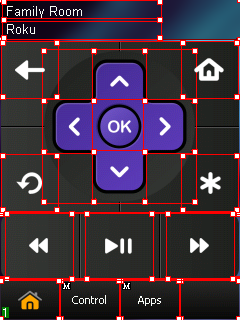 Basically, when I design graphics / templates for RTI, I keep the KX2 / T2i limitations in mind or design for them first because I know anything I copy and paste to the other 240 x 320 remotes will be fine. Since I cannot convert them to T2X / T2-Cs in ID, I do a manual conversion instead.
Last edited by gwstudios on December 21, 2015 12:26.