The KX3 requires larger buttons spread over multiple panels or pages to have all the controls need for something like a cable-sat receiver or Blu-ray player.
It is 480 x 800 resolution, which is pretty impressive for the screen size.
I had to tackle this problem when designing graphics for this remote, but I ended up putting shortcuts at the bottom which puts anything one touch away, like the 0-9 keypad or transports.
The screen seems large in ID, but it is about the same width as the KX2 in a 16:9 vertical version. it allows for an extra row of buttons, which I use for direct source select. It doesn't seem that big, you just have to break up the controls a bit.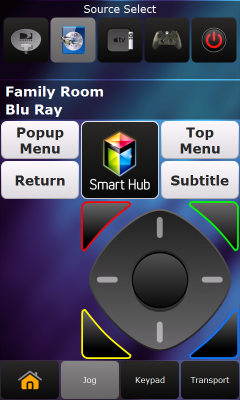 Everything above the bar with the room / source name text is extra real estate compared to a 480 x 640 display. It is nice to be able to select a new source without going to a home page first.
Last edited by gwstudios on October 20, 2015 12:34.