Bahhh those things are only worth it when you live/work in the city. They are so small and even with clever storage shelfs/drawers you cant hall everything. for a few thousand dollars more you can get a Nissan NV 2500 and they are leasing DIRT CHEAP right now. Highway fully loaded i get 19.5 MPG around town ill get 16.5. I have the V6 2500 and that thing is a work horse. If I didnt know i would think i was driving a V8.
It is so comfortable and has some super nice features. Here is a review i wrote for the guys over at IP.
On May 9, 2012 at 21:30, 3PedalMINI said...

Yup, I have one. When I took delivery of mine back in March they informed me that I was the first one to take delivery in the US. I keep meaning to do an in-depth review for you guys with pictures but never have the time. Ill do as much as I can now. I have the 2500SV model with the V6 engine. The SV package is more than chrome exterior package, it offers you so much more and what really makes this van stand out from the rest.
1st) Engine; I have the V6 2500 chassis low top version. I believe the HP rating is right around 265hp 4.0l engine. Honestly, I feel that the v6 is more than enough power for CI's. My van is loaded up with everything from drills/wire/parts/vacuum/saws etc. Everything the normal CI has on the van. I would estimate the weight to be around 1500 lbs. This of course doesn't include hauling jobsite materials etc. I have had up 2600 lbs. worth of concrete bags, leveling compound , rebar etc for a boardroom we did (don't ask). IMO the engine/tranny acted like it was still loaded with my normal gear. As far as towing goes I can't really comment on it as the most ive pulled was my Jetski from my house down the road to the shop. Don't get the towing package through Nissan, save yourself some change and go aftermarket. I saved around 500 bucks by putting the hitch/wiring harness myself.
2nd) Drivability; It drives so smooth and doesn't handle like a workvan, now I don't have the high top version so I cant comment on that but if you blindfolded someone and stuck them in the driver's seat they would feel like they were driving a larger SUV. The ride is so smooth and when you take an on/off ramp at speed it doesn't feel like you're going to tip over. I have driven close to 3 hours in this and I didn't feel fatigued at all. (Cruise is a must)
3rd) Front cabin; this is where this thing really shines. The seats are super comfortable and really give you a lot of adjustment on lumbar, back and actual seat. The driver's seat is powered except for a manual lumbar adjustment passenger is manual. One thing to keep in mind is with the metal cargo divider it doesn't allow the seat to go back as far as it could. Im tall but can stand it mainly because im to cheap to buy the divider extender to allow the seat to go back all the way. For some this will be a must have, for other it won't be a big deal. If you're taller then 6'3" or a fairly large fellow then get the extender. Be warned it will cut into your cargo about 4 ˝ inches. The SV package adds steering wheel audio controls, cruise & CD with RDS. It also comes with a center console that is more then a console. There are filling hooks to hold files and a slot to hold your laptop. The filing system is beyond awesome especially for keeping track of projects, time, receipts etc. this console is HUGE. The top of it also slides forward when your parked so you can easily write an invoice, notes etc. It also has a hook for a paper clamp to hold blue prints etc while driving. The passenger seat folds down and has a cut our which works as a nice area to keep your laptop from sliding around when your driving.
The SV package also include a 650w inverter system and puts standard 3 prong outlets in the console and one in the rear cargo area by the door. I use this just about every day to charge my laptop, phones etc. I have used the rear outlet numerous times on jobsites that did not have electricity. I was able to run a small work light and my Milwaukee Hole hog with ease, I have also run a circular saw, jig saw and fein tool off of it with ease. Although not a replacement for a generator it does work out very well in those situations where you only need a couple power items when your cordless drills don't cut it. I also mounted my Makita drill/impact driver battery charger and plugged in most of the time to ensure a battery is always charging.
The cabin has generous amounts of cup holders, slots and holders for just about everything, too much if you ask me. The cup holder was actually designed to be able to fit a big gulp from 7 11 (never tried it). The Driver information center is very handy as it shows you your MPG, Average MPG, Miles untill empty, Tire Pressure, Avg MPH, Engine hours and trip timer. It also has a coolant meter, real-time battery info to keep an eye on consumption and oil levels. You can also set reminders of when to change your oil, filter, and rotate tires, Nissan Maintenance and 2 extra reminders of your choice.
Everything in the cabin is quality, the only thing that bothers me the shift lever. It is really the only thing that feels cheap to me. The steering wheel is big and beefy and has slots cut out for putting your hand comfortably in any positions. It also has the thumb holders at 10 & 2 kind of like what the sports cars get. One of my buddies actually compared the steering wheel to a 370z wheel.
My only real complaint is that there are no soft areas to rest your elbows. The driver door is hard plastic and it does catch up to your elbows after a long ride. The SV package also adds power windows & locks with remote keyless entry. Windows seem a bit loose when rolling down but that is a nit pick. The left and right mirrors are HUGE and are powered. There are also two very generously sized blind spot mirrors below the main ones. You will get so used to using those you will forget to look over your shoulder when driving your personal car.
4th) Cargo Area:; this is another area that is AWESOME and honestly what is a van without it. First the shelving was designed to be able to slide 10 sheets of sheetrock/plywood since there are notch outs at the bottom of the shelving units that is HUGE and was one of the reasons I could never buy a ford/chevy without getting the special unit not provided by the business choice. With the cargo divider you can easily hall 10ft lumber/conduit etc. There are cargo hooks in the floor but they are hard to get to with the shelving installed.
The upfit is provided by Adrian steel and it really is a quality system. There are rails in the floor and ceiling to accommodate future shelving units with ease. The side walls of the van are protected by Melamine to prevent the annoying dents and dings that extrude like what every other work van has. Lighting is very generous too. There are TONS of threaded holes in the ceiling to accommodate future items or any custom haling needs. The rear doors swing a full 180 degrees for ease of entrance/cargo loading. The sliding door opening is HUGE and was designed to accommodate a full pallet to be loaded in the side (without shelf unit). The floor has a heavy cushioned mat that really helps your knees when your sliding around back there.
The roof has built in mounting system to mount any type of ladder rack/roof system imaginable. There are finally aftermarket options available for roof systems other than the $500 Adrian steel system.
5) Nissan; Is phenomenal. Since these are the first year out there are always the model quirks. I had couple leaks, the first was around the window but they found that the robots were faulty. Nissan replaced within 1 day. I had a small leak in the back that was due to a small pin hole in the thin roof panel. This was fixed within 1 day. Both times Nissan has without question put me in rental work van. They also compensated me with one month's payment due to my issues without question. I currently have 9k on the odometer without mechanical issues. Nissan is also the only company out there that is leasing work vehicles (which as you know is HUGE) I got a really good deal since I was one of the first buyers. However my money factor is higher than what they are offering now, I think they are offering a base 1500 model for 369/ month. Residual is around 51-52. Warranty is 3 years/39k which blows by Ford and GM by a good two years.
6) Conclusion: I LOVE THIS VAN, I really do. There are too many small clever things to write about. I get about 19.5 MPG on the highway when doing 65 mph. Local town mileage drops to 15.4. My only real regret is not getting the built in GPS/Sirius/Back up camera. I wouldnt care about the back up camera as I have rear windows but I do wish I had the OEM GPS/Sirius. For $995 it is a steal.
There is limited up fit options on the aftermarket market. Through Nissan you have a choice of either the interior shelf's, a ladder rack or lettering. I would advise you to go with the Bins, leave the lettering up to your local lettering guy and pick up an aftermarket ladder rack from American Van. These are all included in the cost of the van.
I honestly cannot say enough good things about this van, you will truly love it. For our industry I don't see why we would need the high top version. I fit a TON of stuff in my van, I actually find myself filling voids with boxes so stuff doesn't slide around. I do look forward to some cool aftermarket shelf options which I'm sure will be coming out very soon.
The van is 100% assembled in USA, the actual body comes out of a plant in Michigan I believe. The assembly happens in Massachusetts. So if you are hung up with not buying American you technically are.
Long term reliability is obviously undetermined but I truly see this van lasting to 200-350k with routine maintenance before it grows tired. I highly recommend it here are a few pics of my van lettered, ill add some more of the cockpit/cargo area once I get it cleaned up. I hope this helps you! Honestly if I were Ford and GM I would be scrambling to come up with a viable competitor to the NV, the GM/FORDS are outdated, small and need a desperate over hall :)
If you have questions please dont hesitate to ask me, just do everyone a favor and dont quote this long post :D
[IMG]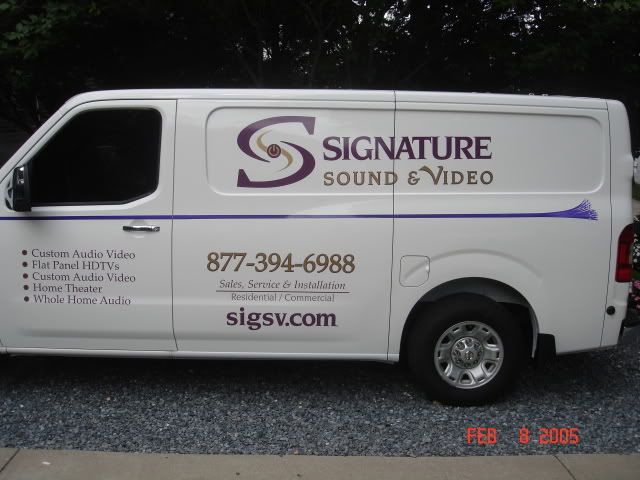 [/IMG]
[IMG]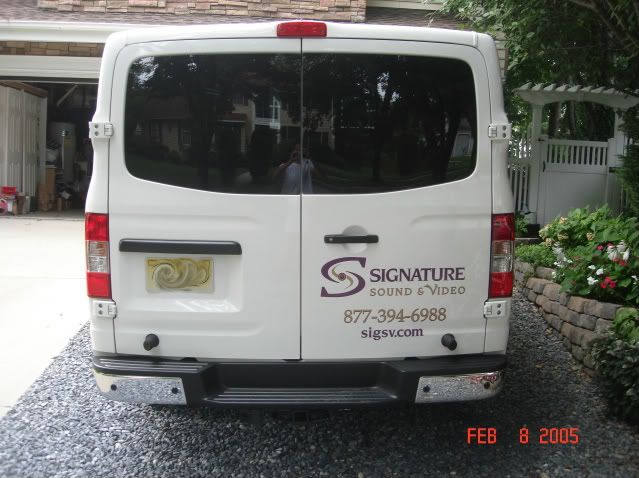 [/IMG]
Without lettering
[IMG]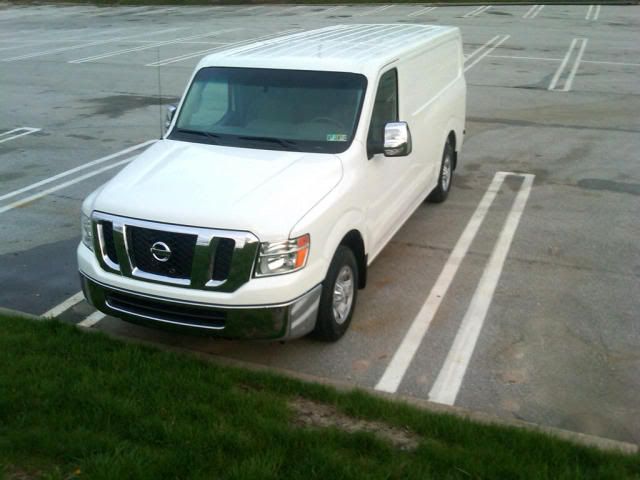 [/IMG]
Last edited by 3PedalMINI on May 9, 2012 21:47.