On October 28, 2017 at 11:12, Barry Gordon said...

The music system in my home is the original squeeze system from Slim Systems. It runs on a PC. Slim sold out to Logitech. Logitech renamed it as LMS; Logitech Music Systems. It has been running in my home on a PC for as long as it has existed. There are two iPad apps that control it, I use 'SqueezePad" which I highly recommend. I, in conjunction with LowPro, wrote a Pronto Pro app to control it which we charged something around $30 for. It is no longer supported but I think I have a copy of the last version released.
LMS is no longer supported by Logitech, but it is free and maintained by a user community including periodic builds and improvements. I am currently running version 7.7.2 with all the media stored on a NAS. The current version is 7.7.5.
The server software has a very well documented API called the CLI (Command Line Interface) so that any competent programmer can write an LMS client in the language of their choice.
I control it from my iPads and My Home Theater system. I no longer use the Pronto to control it.
The following link should provide more information if you are interested:
[Link: en.wikipedia.org]
Hello Barry. Been a long time. Hope all is well. I'm still using the Logitech Music System as well. I've been running it 24/7 since you first introduced me to the product line many years ago. My Squeezebox (Duet) Receivers and LMS server running on my HTPC are still going strong. Not as much as a hiccup with any of it in all these years and so many control methods to choose from. I also use the mobile apps as players when on-the-go. They have no trouble connecting to my LMS server over the Internet. Works great. In fact, listening to some music right now as I sit here typing this. To set the mood... :-P
Home Office (Personal setup to the left. Work setup to the right.)
Dedicated iPad for SqueezePad and Nexia thermostat control.
Logitech Squeezebox Wi-Fi Internet Radio Remote Controller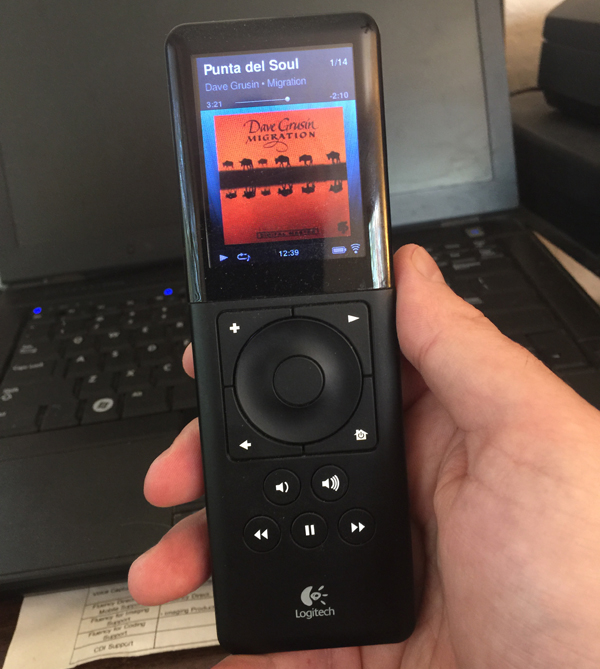 iPeng 2.0.17 for iPhone
(Used as a player when on-the-go.)
SlimPronto96 (Sometimes you just gotta Pronto!)
LMS Web Control (Browser based interface.)
As for the LMS server, at present I'm running the below...
Logitech Media Server Version:
7.7.5 - 1416570306 @ Thu Nov 27 07:38:09 CUT 2014
I've been on 7.7.5 for a few years now. Use of SlimPronto96 has been limited to the "Info
(Now Playing)
" page though. The browse by cover art feature on the "Main" page and ability to browse the library from the "Select" page have been broken since SqueezeCenter 7.2, something we'd commonly see back in the day from release to release where they make a slight change which in turn needs to be accounted for with our activity. That being said, the "Info" page still works beautifully, so I have the activity configured to "Auto Start" where the default player is selected from the "Main" page, then taking me directly to the "Info" page. To restore functionality to the "Main" and "Select" pages I could roll my LMS server back to a version pre-7.2 naturally, but then I'd lose the "Press and Hold" functionality when browsing with the "SqueezePad" app which is an awesome feature and it's not like I don't have enough control methods. I won't lie though. It would be sweet to kick it old school again per being able to browse and add items to the "Now Playing" list with SlimPronto.
*wink, wink*
__________________________
And here are some screen captures of the mobile apps for those not familiar with them.
iPeng 2.0.17 for the iPhone...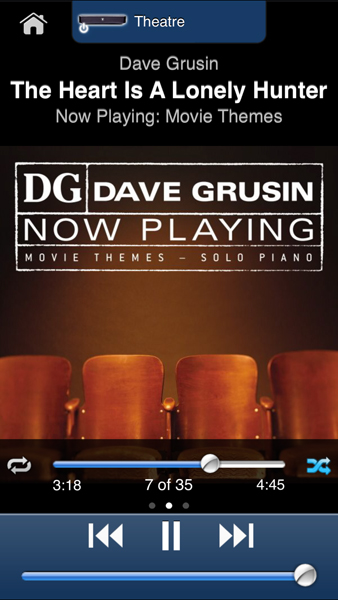 SqueezePad 1.11.3 for the iPad...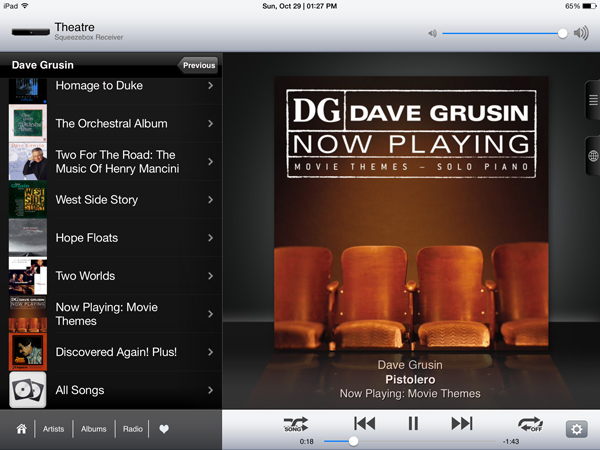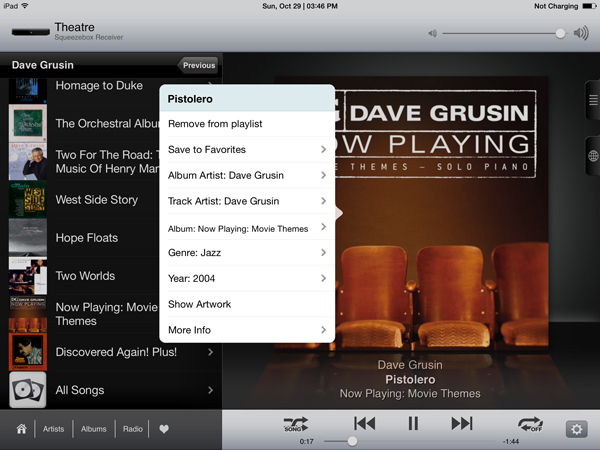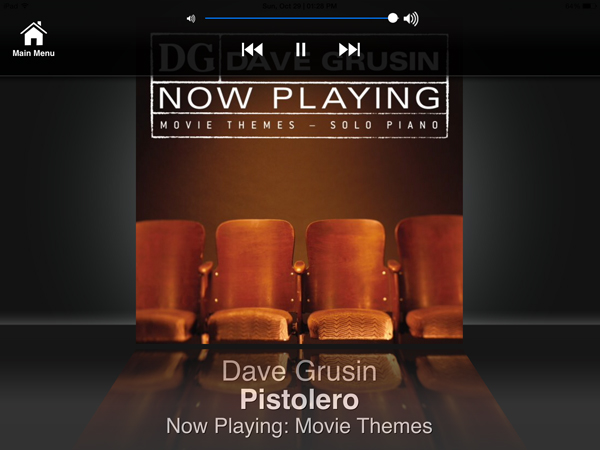 __________________________
I should also mention that there are plenty of hardware based players available for purchase on EBay for those looking to get in on the action. I love my Duet receivers! They were a bit of a pain to configure (UDAP) without the remote
(didn't own one at the time)
, but if I can figure it out. :-P Some helpful link action provided below.
Logitech Media Server v7.7.5 (55.6 MB)
Logitech Media Server (Archived and newer releases.)
UDAP - SqueezeBox Receiver configuration tool. (Logitech Squeezebox Forum Thread)
Net-UDAP (Perl module to configure SqueezeBox Receiver from PC.)
Squeezebox Wiki
Last edited by Lowpro on October 30, 2017 12:50.