I as well have often thought it would be great to be able to store System Globals in a central place for use with multiple remotes. That being said, my configuration file does contain a
System Status
page. While the
System Status
page is local to the particular remote of course I do find it useful from time to time.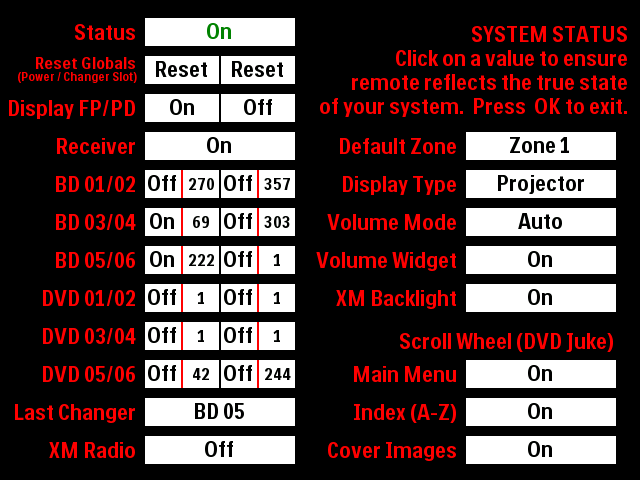 My
System Status
page shown above can be accessed from any page throughout my configuration file via an invisible button up in the top right corner covering the time, date, wi-fi, and battery level system items. A normal button press will take you to my
Lighting
page. An extended button press will take you to the
System Status
page. The
System Status
page reports the currently selected activity, the last BD/DVD changer in use, and the power states for key components. Tapping a given value will allow you to update that value on the fly if needed in order to get the remote back in sync with the given component or function. Settings options for the scroll wheel while under my
DVD Juke
activity are included as well.
For anyone interested, my current configuration file is available for download
here
. A PackAndGo version of my configuration file is available as well which can easily be run in PEP v2's Simulator rather than downloading it to an actual TSU9600.