I recently went back and improved the main background image I'm using throughout my XCF via images from the gallery I had overlooked in addition to doing up backgrounds in different colors for each activity as seen below.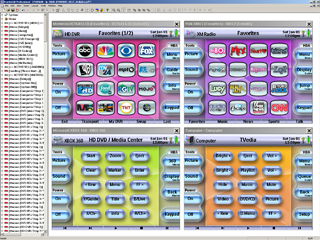 *Update on 02/12/2007* Daniel Tonks Galaxy NG game added!
Today I took some time to convert Daniel Tonks Galaxy NG game over for use in the TSU9600. The game has been resized to fill the entire height of the screen and has been centered on screen as well. Looks and plays great on the TSU9600! As of today my TSU9600 PackAndGo file now includes this game accessible from my
Activities
page as seen below. I've also sent a copy of the game to Daniel, so that it can be posted in the TSU9600 files section once it comes online. If given permission prior to that I'll make it available here at the forums for download.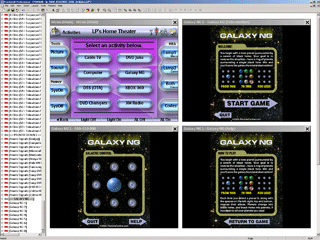 For those who have access to a TSU9600 and would like to check out my configuration file in the remote feel free to download my PackAndGo file. The download link can be found at the top of this thread. Enjoy!
Last edited by Lowpro on November 21, 2011 10:44.